Fermented beverage industry to benefit from fast and reliable quality control testing for wine and beer organisms
Sysmex America, Inc., a leading diagnostic solutions company, has announced an exclusive agreement with Gusmer Enterprises, Inc. that grants United States rights to distribute its CyFlow™ Cube 6 V2m for fermented beverage industry processing use. The CyFlow™ Cube 6 V2m is a compact benchtop flow cytometer for the analysis of micro-organisms, single cells, and microscopic particles that comes with a standardized laser configuration.
"With years of expertise and a vast portfolio of quality solutions, we are happy to share our expertise with the fermented beverage industry," said Ian Heynen, senior vice president, Canada, Latin America & All Americas, non-IVD business development, of Sysmex America. "While plating can differentiate between species and types of bacteria depending on the agar used, flow cytometry offers much faster and more cost-effective assurance of quality in wine production."
The CyFlow™ Cube 6 V2m allows the detection of spoilers, yeast, and bacteria in wine processing much faster and with less effort than with established culture methods, including viable but non-culturable (VBNC) organisms. Because the CyFlow™ Cube 6 V2m directly detects living cells, as one would see under a microscope, the result is not affected by inhibiting factors that can lead to an underestimation in other techniques. It also avoids false-positive results that can occur when using molecular biological methods, such as qPCR, in which stable fragments of DNA from dead yeast are amplified as well.
"Gusmer's expertise in commercial fermentation and our long-standing industry relationships, make us the perfect collaborator to bring forth and locally support the launch of this groundbreaking technology in the American beverage market," said Dave Gusmer, executive vice president of Gusmer Enterprises.
The CyFlow™ Cube 6 V2m features a built-in Windows® PC and runs Microsoft® Windows 10 Professional operating system. It is equipped with an integrated 15" TFT LCD Display, four USB ports and an ethernet connection. The Cube includes CyView™ software that provides instrument control, data acquisition and real-time data analysis and FCS Express software for standardized reporting capabilities.
Advantages of CyFlow™ Cube 6 V2m
Highly specific
Low limit of detection
Counts only living micro organisms
Rapid and clear-cut release decisions
Automated read-out of the results
Reliable results even on challenging samples
Easy handling
Perfect for routine analysis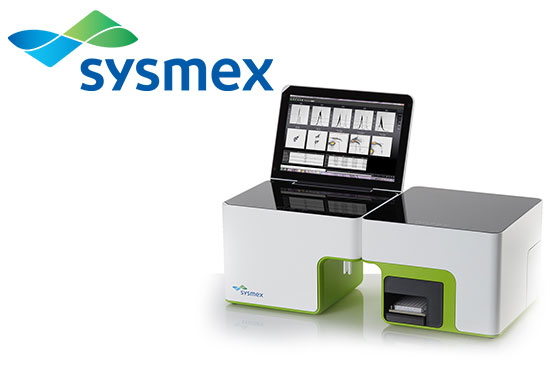 ---
About Sysmex America
The combination of Sysmex America's new testing methods and innovative hematology, urinalysis, information systems and flow cytometry testing technology are transforming the future of healthcare and contributing to healthier lives. As America's regional affiliate of Kobe, Japan-based Sysmex Corporation – a trusted global leader respected for optimizing the efficiency, operations and financial performance of clinical laboratories – it offers diagnostic products that equip patients and the healthcare professionals who treat them with the information needed to make decisions with greater trust and confidence. Forbes magazine named Sysmex one of the most innovative companies in the healthcare equipment and services category, and the Center for Companies That Care named Sysmex America to its "Honor Roll." Learn more about Sysmex America at www.sysmex.com/us.
About Gusmer Enterprises
Gusmer Enterprises, Inc. was founded in 1918 to provide products to the brewing market.  In 1924, Aage Gusmer incorporated the company as the exclusive distributor of a tank coating for the North and South American brewing industries. Today, Gusmer Enterprises, Inc. is one of the leading beverage filtration manufacturers & suppliers of processing aids and equipment to the entire beverage industry, focusing on the wine, beer, juice, and distilled spirits segments. Gusmer, with manufacturing locations in California, Wisconsin, and North Carolina, continues to manufacture and exclusively represent many world-wide suppliers of superior products for fermentation applications. Learn more about Gusmer Enterprises at www.gusmerenterprises.com